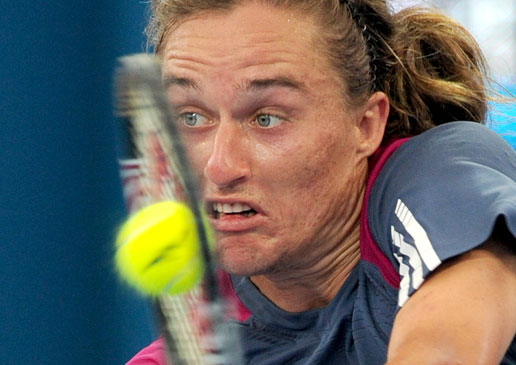 Final preparations underway in Brisbane
Ethan James Thursday 29 December 2011 Comments Off
With the Brisbane International only a matter of days away, a number of big name players are getting ready to play ahead of the tournament, which begins on 1 January.
Glamour girl Daniela Hantuchova was one of the first to take to Patrick Rafter Arena this morning ahead of an afternoon photo shoot. Despite her often well publicised slender figure, the Slovakian generated surprising power during some searching baseline exchanges.
Far from one dimensional, she spent considerable time at the net honing her volleys. Next month's Brisbane International marks Hantuchova's third appearance at the tournament – she will be looking to advance on her quarterfinals finish in 2010.
> View the women's qualifying singles draw
Thursday morning also saw the outside courts spring to life, with top 20 Ukrainian Alexandr Dolgopolov one of many top-line men going through their paces under cloudy skies.
The world number 15, who made the second round at the 2011 Brisbane International, is a definite example of the adage "train how you want to play". His aggressive nature, attacking style and willingness to hit the ball as hard as humanly possible shone through even during practice.
In contrast, Frenchman Gilles Simon presented a far more relaxed demeanour on Court 7.
> Take a look at some photos from today's practice sessions
The lanky Frenchman, who will end the year ranked No.12, mixed some well-timed forehands with the occasional right-angle-turning drop shot in a relatively stress-free hit out.
At the stroke of midday, giant German Florian Mayer emerged with little fanfare or entourage. His trademark looping forehand backswing took some time to fully warm up but when it did, he quickly honed his radar – the majority of forehands were sent whizzing through the air just above the tape. Mayer's crisp groundstrokes will be sure to catch the eye in the upcoming week.
Andrea Petkovic, well known for her post-match dance routine, took to Court 1 in typically flamboyant fashion. Whether by chance or by choice, rock band Kings of Leon could be heard blaring over the loudspeakers with Petkovic following the lyrics as well as the oncoming shot. Fans will again be hoping to see her rocking on court in 2012.
Bubbly American Vania King seemed to also be enjoying her time down under – her pearly whites and flashy smile were on show on Court 13.
King, like many others, will have to fight through the gruelling rounds of qualifying, which commences tomorrow for the women and on Saturday for the men.
The draw for the main draw will be held on Saturday 31 December.
Venue: Queen Street Mall, Brisbane
Date: Saturday 31 December
Time: 10:30 am
Tags: Alexandr Dolgopolov, Daniela Hantuchova, Florian Mayer, Gilles Simon, Vania King
Comments are closed.
Site Information
© 2013 Tennis Australia