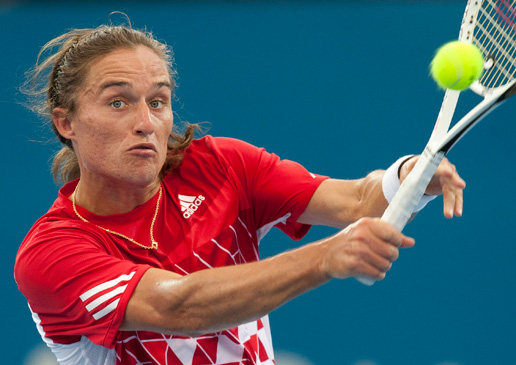 Video: Dolgopolov through to final
Ethan James Saturday 7 January 2012 2 Comments »
Update 6:55 pm. A combination of crafty slice and explosive power has seen third seed Alexandr Dolgopolov prevail 6-3 6-4 over Frenchman Gilles Simon to reach his third ATP tour final.
In a match of contrasting styles, Dolgopolov's free-hitting game proved too strong for the ever-consistent Simon to handle.
"I think I played pretty well … I don't [think] Gilles is still in his top form, you know, he was missing more than usual," Dolgopolov said after the match.
> Watch Brisbane International videos
"So, you know, it was good for me. I changed up the pace, I played good in important moments … I was happy with the match."
The Ukrainian's willingness to employ the slice off both the backhand and forehand wings allowed him to bide his time before waiting for a shorter ball to attack.
And when he chose to take the initiative, the 23-year-old did so with pinpoint accuracy, reeling of 23 winners in total.
But it wasn't all smooth sailing, in shades of Kim Clijsters's shock retirement in the Brisbane International women's semifinals on Friday night, Dolgopolov surprisingly revealed he contemplated pulling the pin in the early stages of the second set.
The world No.15 requested the trainer with the score poised at 3-2 in his favour, receiving treatment on an upper leg muscle.
"It was hurting so hard after I just pulled it, that I thought… 'I'm going finish in a few games'," he said.
"It was feeling bad for three to five games. It's a bit scary you know, when you're running and you have that feeling of the pain.
"I had some treatment, he [the trainer] taped it up and it started to feel better to the end so I was more relaxed."
At the beginning of the match, Dolgopolov secured a crucial break in the first set to go ahead 3-2, before again toppling the Simon serve in the final game of the set to take it 6-3.
The Frenchman rallied and saved a number break-point chances midway through the second set but faltered when serving to stay in the match at 4-5, as Dolgopolov struck at the right time to take the set 6-4.
It was the Ukrainian's first win over Simon, after Simon claimed a straight-sets victory at the Sydney International last season.
He now faces Great British hope Andy Murrary in the final and Dolgopolov is still planning to "mix up the game" against the Scot, who he described as a "great defensive player".
"I'll have to attack a lot and break up the rhythm," he said.
"I have the goal to go to the top 10 this year and if I want to do good in the Slams I'll have to be competing with these guys.
"He's been playing impressive the last two matches, and I think it'll be interesting."
> View the complete draws and order of play
Tags: Alexandr Dolgopolov, Gilles Simon
Site Information
© 2013 Tennis Australia