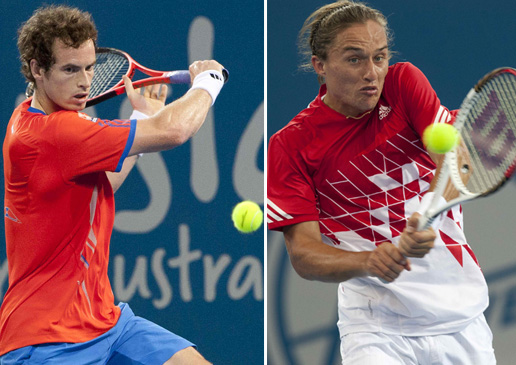 Men's final preview: Andy Murray v Alexandr Dolgopolov
brisbaneinternational.com.au Sunday 8 January 2012 2 Comments »
A record-setting Brisbane International comes to a close today with the men's finals. Up until today, the tournament has hosted 86,589 people, breaking the previous record of 82,257 fans set in 2010. 
Almost one year ago Andy Murray ended Alexandr Dolgopolov's spirited run at the Australian Open in the quarterfinals.
Then ranked No.46 in the world, the Ukrainian surprised many by knocking out past Grand Slam finalists in Jo-Wilfried Tsonga and Robin Soderling before Murray resumed normal transmission with a four-set win.
But Dolgopolov had made his mark.
Now firmly entrenched in the world's top 20, Dolgopolov's unorthodox playing style is known by all, but that doesn't make him any easier to play.
"He's similar in a lot of ways to Bernard [Tomic]," Murray said of Dolgopolov's playing style.
"He's unorthodox, uses a lot of slice, can generate a lot of power from his forehand side but can go through patches where he makes a lot of mistakes.
"He's inconsistent but that's what makes him very tough to play against because he goes for it. He plays the match on his terms a lot of the time."
For Dolgopolov, a re-match with Murray doesn't hold any fears.
"I'll have to attack a lot and break up the rhythm," he said.
"I have the goal to go to the top 10 this year and if I want to do good in the Slams I'll have to be competing with these guys.
"He's been playing impressive the last two matches, and I think it'll be interesting."
Dolgopolov's path to today's match has hit a couple of bumps – there was a tricky match versus inaugural Brisbane International men's champion Radek Stepanek and a very close shave against big-serving Russian Igor Andreev.
Then, in the semifinals, Dolgopolov considered retiring while playing second seed Gilles Simon.
"[My groin] was hurting so hard after I just pulled it, that I thought … 'I'm going [to] finish in a few games',"
he said.
> Watch Brisbane International videos
"It was feeling bad for three to five games. It's a bit scary you know, when you're running and you have that feeling of the pain.
"I had some treatment, he [the trainer] taped it up and it started to feel better to the end so I was more relaxed."
For Murray, a slow start in the first two rounds has given way to the Scotsman finding some pleasing form in the quarters and semis. A potentially dangerous match against Wimbledon quarterfinalist Bernard Tomic was quelled, largely thanks to the dominant Murray serve.
Whoever wins today's final will take not only the Roy Emerson Trophy, but the knowledge that their preparation for Australian Open 2012 is on track.
> View the complete draws and order of play
In the men's doubles, the top two seeded duos will face off for the title. Number one seeds Max Mirnyi and Daniel Nestor will take on Jurgen Melzer and Philipp Petzschner in today's opening match, which will be followed by the men's singles final.
Tags: Alexandr Dolgopolov, Andy Murray
Site Information
© 2013 Tennis Australia