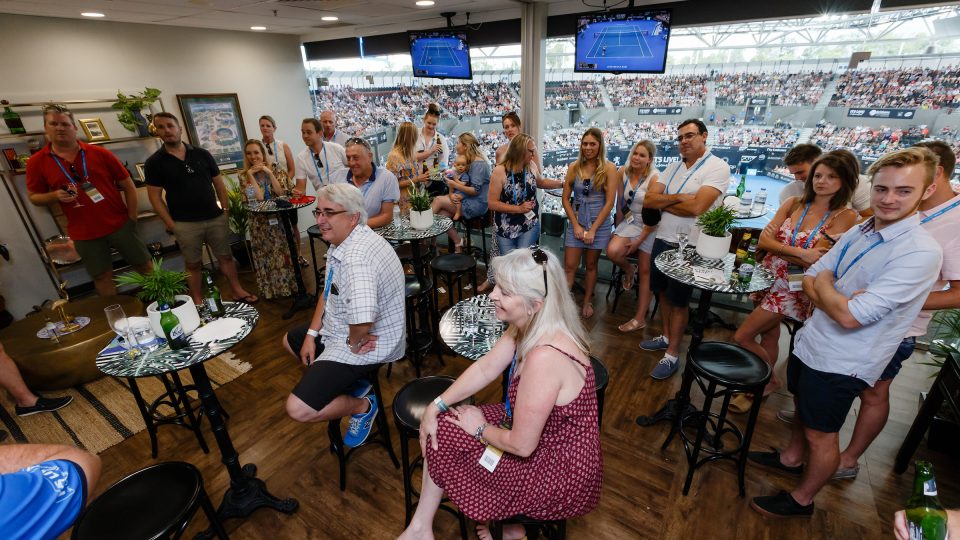 Choose from our premium range of facilities.
Our impressive selection of hospitality options range from premium seating packages through to the popular outdoor boxes and luxurious indoor corporate suites. We have a facility to suit all needs and budgets.
Be at the centre of the action and ensure your guests experience a day they will never forget! With spectacular views of Pat Rafter Arena, the Champions Suite offers you the perfect environment to entertain your guests in comfort and style. This unique facility comfortably accommodates from 16 to 24 guests.
Our luxury twelve seat corporate suites deliver the ultimate Brisbane International experience. Treat your guests to the best in entertainment and enjoy the perfect environment for relaxed networking.
Enjoy all the centre court action from the popular eight seat open air corporate boxes. Located court side in Pat Rafter Arena, these enclosures offer fantastic viewing and provide you and your guests with a unique opportunity to get up close and personal with the best tennis players in the world.
The Baseline Club offers the true tennis enthusiast the perfect package. Your premium cushioned reserved seat located right behind the baseline will ensure you enjoy your tennis action up close, in comfort and style. The Baseline Club also includes access to the exclusive corporate bar and dining room.
Brisbane International Session Select is the popular all-inclusive and 'fuss free' option. This comprehensive package includes a prime reserved seat in Pat Rafter Arena, as well as a three course buffet meal and beverages, served pre-session in the corporate dining room and access to the exclusive Corporate Bar.
–
Like to know more?
For more information and to book, please contact Corporate Sales Manager Michael Murphy on:
P: (07) 3120 7933
E: [email protected]