World No.4 Maria Sharapova has survived what appeared to be a brewing upset against Brisbane International 2012 champion Kaia Kanepi, winning 4-6 6-3 6-2 to advance to a blockbuster semifinal against top-ranked Serena Williams.
After Williams overcame Slovakia's Dominka Cibulkova in the second of Thursday's quarterfinals, the long-time rivals will face off in a semifinal marred with typical intensity that Brisbane fans have been anticipating for years.
But after losing 13 consecutive matches against Williams, dating back to her lone two wins in 2004, Sharapova laughed off the idea of a rivalry.
"Well, I think I've got to win a few times in order to call it rivalry," she offered with a wry smile.
"I think the intensity level of our matches are always high.  I think she goes up and wants to play the best tennis against me.  That's certainly no secret because she shows that on the court."
Achilles' Heel or not, with the start of a new year Sharapova will be putting that all out of her mind when she steps onto Pat Rafter Arena in the semifinal – as much as you can against such a daunting record.
"When you go out on the court in a new time, you can't really rely on everything that happened in the past.  You got to start from scratch from the first point," she said.
"She's been on a roll the lost couple of years with her level and the way that she's been able to play.  I've competed against her a few times last year; didn't work. You always hope that you can go out and give yourself a chance to do better next time."
An easy service game was rare for Sharapova today and the Kanepi receiving plan was patent, with the big-hitting Estonian rifling returns off the second serve into Sharapova's feet.
Hitting just 40 per cent of first serves in the first set and winning 33 per cent of points on her second serve, the signs were ominous for the Grand Slam champion, losing the first set 6-4 and conceding a break in the first game of the second.
"She's won this tournament before, so I knew that she's able to play on this court and she enjoys it. For me it was a slow start.  I wasn't very sharp in the beginning," Sharapova said.
But Kanepi was far from the scintillating and errorless shot-making that took her to the 2012 title, with strings of errors keeping Sharapova in reach of the match.
After quickly breaking back, it was a huge forehand winner that gave Sharapova a 4-2 lead in the set and marked the shift of momentum the Russian had been working for.
Balls now finding the lines, Sharapova took control of the match, pushing Kanepi behind the baseline to close out the second set 6-3 before snagging the crucial early break in the deciding set to take a 2-1 advantage.
Kanepi, currently ranked No.30, was still asking questions of Sharapova from the baseline, but the favoured Russian's grip on the match was typically hard to shake, serving out the quarterfinal 6-2 in the final set. 
Despite not playing her best tennis in today's match, Sharapova said coming back in tough matches is the ideal preparation for those critical match moments she would undoubtedly encounter if she were to overcome Williams.
"It was important for me to get through a match like this because I haven't had those moments where you're down and you have to get yourself back up again and find a way to win," she said.
"Something when you don't do for while there is nothing that really substitutes that type of adrenaline and match play."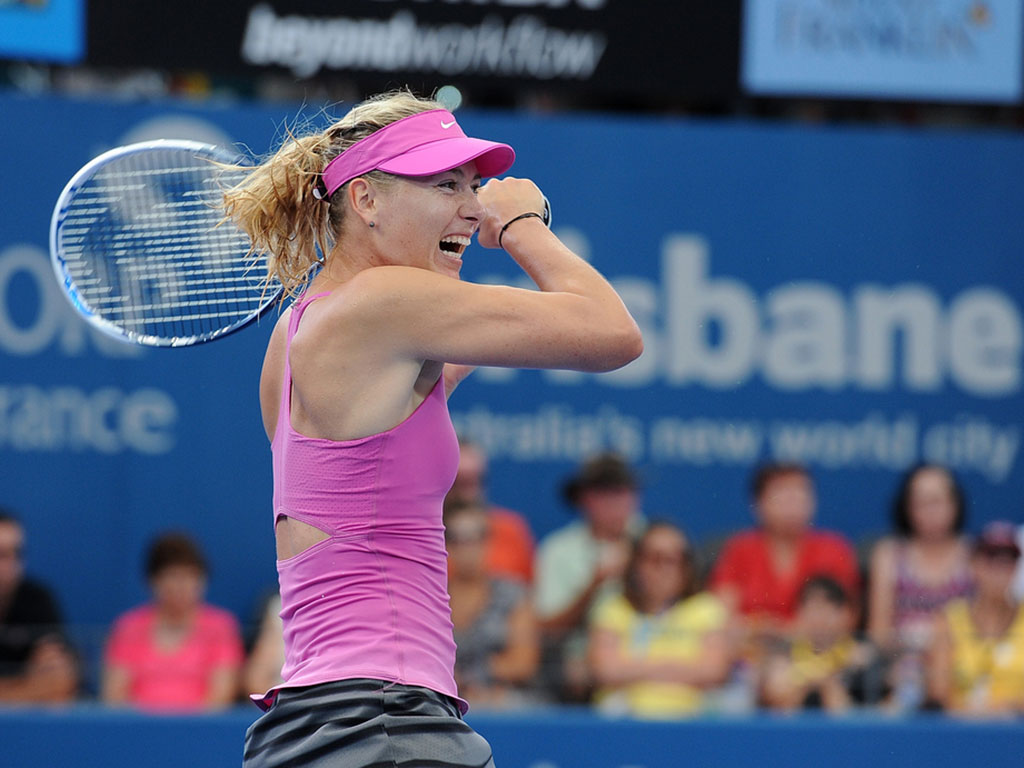 Meanwhile, men's eighth seed Jeremy Chardy has survived an all-French second-round match versus Nicolas Mahut.
Chardy edged his countryman to book his place in the quarterfinals with a 7-5 6-7(4) 6-3 victory in just over two hours on Show Court One.
Chardy will play the winner of tonight's match between fourth seed Kevin Anderson and Australian wildcard Sam Groth.
> Purchase Brisbane International 2014 tickets