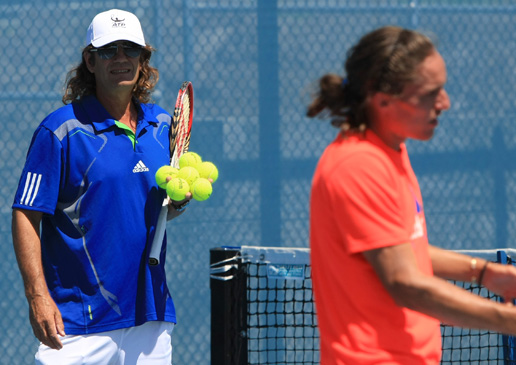 Reading from the book of Jack
Ben Wilmott Thursday 5 January 2012 3 Comments »
Jack Reader doesn't look like the coach of a top 20 ranked international tennis player who won over $1 million dollars in prize money last year.
Sitting on a grassy hill behind the practice courts smoking a cigarette and drinking a coffee, it would be easy to mistake the tall, long haired man as an ordinary Australian bloke out watching the tennis. Even when his young player, world No.15 Alexandr Dolgopolov, is about to take the court for a doubles match, Jack is happy to have a chat and another cigarette, "I quit these things last year," he chuckles.
And if Alexandr can win his first Brisbane title, his coach plans to celebrate with a bottle of chilli vodka sent to him as a New Year gift by Alexandr's father, and former coach, Oleksandr.
Jack took over from Oleksandr as Alexandr's coach two years ago. Oleksandr was previously an ATP ranked professional player himself and the coach of former No.4 Andrei Medvedev. Since then, Jack has helped Alexandr climb the ATP rankings and is making real waves in the International field.
Unlike some of his top 20 contemporaries, Alexandr doesn't have a team of nutritionists, physiotherapists, sports psychologists and personal trainers. Instead, Alexandr has Jack, and that's the way the two of them prefer to operate.
The recent success Jack and Alexandr have had on the pro tour hasn't changed the way Jack coaches or the role Jack views himself having as Alexandr's coach. When asked how strong the relationship between Alexandr and himself is, Jack is quick to say he "love[s] the kid". More than just a coach, Jack refers to himself as "Uncle Jack".
> Watch Brisbane International videos
The two live together while on tour, which Jack admits has had its ups and downs but was essential for the two of them to develop the relationship and understanding for each other that makes this combination work so well. On tour Jack prefers to rent houses for the two and their hitting partners, rather than stay in hotel rooms to give Alexandr as much normalcy as is possible while competing at the top level.
Jack acknowledges that his decision not to change the way Alexandr naturally plays and the errors that can sneak into Alexandr's game from his impulsivity have been the source of some negative criticism over the years, however, he maintains that he would not change his choices.
There are some facets of Alexandr's game that even Jack admits he would never coach a player to have but it is the way Alexandr plays as an individual that makes him both unique and competitive.
"I hate his volleys," Jack says with a shrug, "It's like he is waving a wand around instead of punching the volley forward." The volley style has become more common with the lighter racquets in recent years, however, Jack believes that even with a heavy wooden racquet "he [Alexandr] would have found a way to still do it."
Despite the questionable volley technique, Jack is hoping to open that bottle of chilli vodka some time on Sunday evening but first Alexandr must negotiate a quarterfinal match against sixth seed Radek Stepanek at Pat Rafter Arena later on Thursday night.
> View the complete draws and order of play
Some tickets still remain for the day and night sessions at Pat Rafter Arena. Tickets can be purchased online from Ticketek.
Tags: Alexandr Dolgopolov, Jack Reader
Site Information
© 2013 Tennis Australia